Annotations and Page Overlay in Piwik 1.10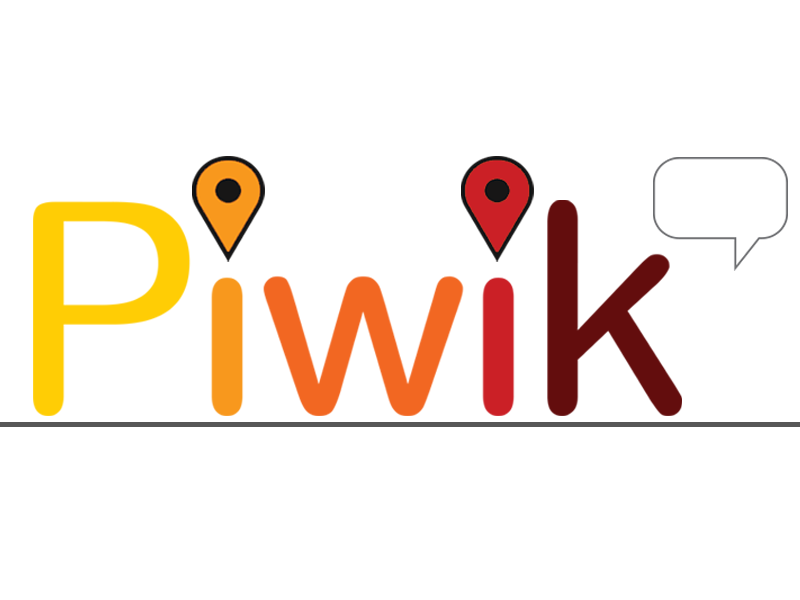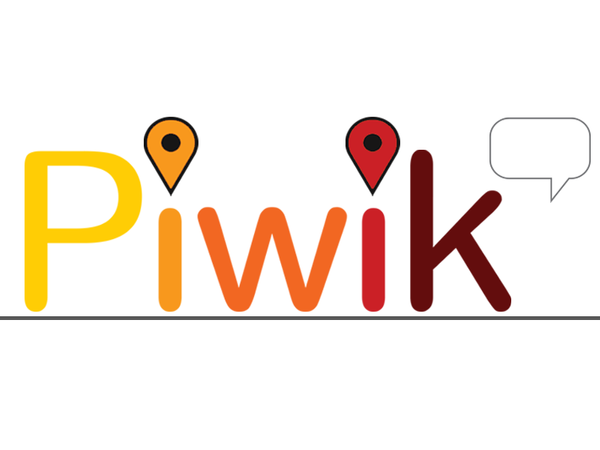 Piwik 1.10 is about to be released and it is time to take a look at the new major features coming with it. Version 1.9 was released in October 2012, with the latest patch 1.9.2 on November 27th. Since then the developers have implemented incredible new features that will make Piwik 1.10 a very important release.
Annotations
Annotations are little text markers for specific dates. You can create an annotation to mark the release of a new article and use it to gain a better understanding on what events on your website have an influence on the number of visits.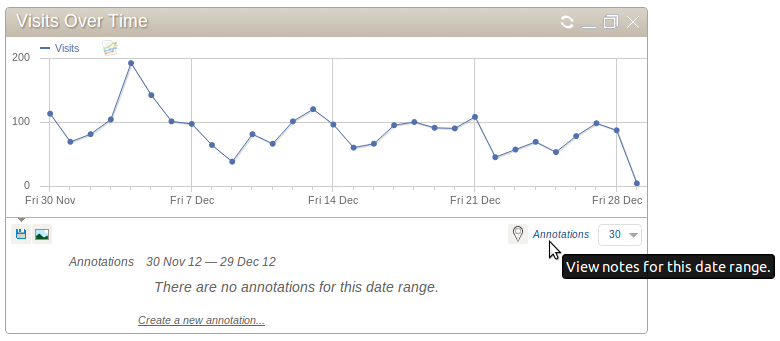 Annotations can be created in the UI for a specific date and are then shown in the "Visits Over Time" widget. It is also possible to "Star" an annotation which it is very useful to move up annotations in the list and always see them as they can be more important.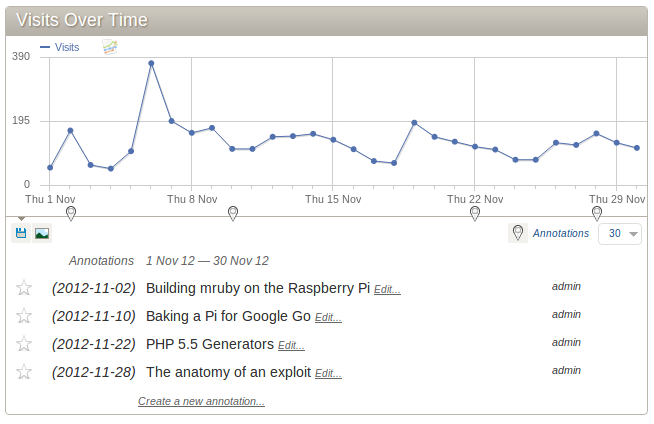 You can however automate the process of creating annotations and use the Piwik API to create, modify or delete annotations whenever something important happens on your website.

The Piwik Annotations API is simple to use and there is a client for almost any modern programming language available (see Integrate your website or app with Piwik). Annotations were proposed in this ticket.
Page Overlay
In-Page Analytics were introduced to Google Analytics almost three years ago. With In-Page Analytics you can browse your website with the analytics data superimposed on your website. This gives you a much better understanding on how people browse your website and on what links they tend to click.
With version 1.10 this great feature is introduced to Piwik as Page Overlay. Page Overlay

You will find "Page Overlay" as a new icon displayed in every page report. Clicking the icon will open up the "Page Overlay" report for the page you selected and show you your website on the right side, additional analytics data on the left side. You can easily change the data range and analyze how the behavior of your visitors change over time.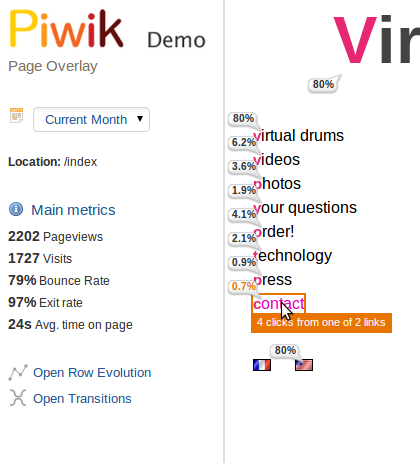 The bubbles show you the percentage of clicks that users perform on a specific link (note that the three "80%" bubbles point to the same link). Hovering a link will show additional information on how many visitors clicked the link.
If you would like to know how this is done from a technical view point I suggest you have look at the explanation on how Google Analytics does this. You can also have a look at the tickets #2465 and #3530 for this feature.
GeoIP auto update
With Piwik 1.9 the GeoIP plugin was merged into the core. In order to use GeoIP you had several options, one which required you to manually download the GeoIP database from MaxMind and make it available to Piwik. The problem with GeoIP databases is that IP ranges are reallocated quite often and the quality of a GeoIP database continuously decreases over time.
In Piwik 1.9 it was not possible to automatically update the GeoIP database periodically which made maintaining the database a recurring task you had to remember to ensure a good quality of your analytics.

Fortunately the developers felt the need for an auto update feature and implemented it for Piwik 1.10. You can now configure Piwik to auto update the free GeoIP database montly or weekly and optionally even configure it to use the commercial and more accurate GeoIP database if you purchased one from MaxMind.
Social Widget
The social widget in Piwik 1.10 will help you to analyze how your website is present in social media. You can add the widget to your dashboard or find it directly under the Referrers > Websites & Social tab.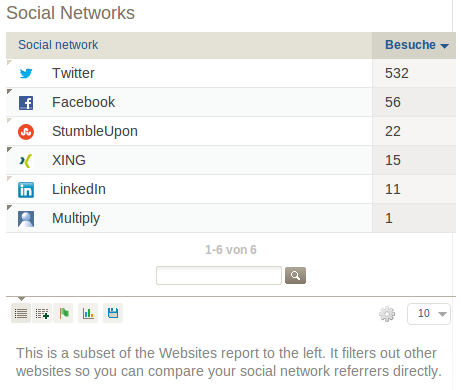 To read more about the social widget have a look at ticket #2791.
Conclusion
Piwik, since its first release almost 5 years ago, has gained a lot of popularity and is ranked among the best free alternatives to Google Analytics. Features like Annotations and Page Overlay have been requested by many people that wanted to switch from GA to Piwik and the lack of those features was even a show-stopper for some. Piwik 1.10 finally introduces those commonly requested features and will help the project to attract more people that currently use GA or other analytics solutions.
Annotations will play an important role in understanding how events like new articles or a referring article on Slashdot influence your traffic.
Page Overlay helps you to get a visual understanding on how visitors traverse through your pages and on what links they click the most. You can learn that some parts of your website are visually more appealing to the visitors than others and try to make use of those parts to optimize your page even further.